Discussion Starter
•
#1
•
Hi all,
I have seen lots of info in the forums about this problem, but no succinct source of information for newcomers. Here are some notes I sent to a friend that will hopefully be helpful to others:
Toyota made an oil line with a rubber that is not as resistant as it should be to the fluids it encounters during the life of the engine. This is an issue that affected 2GR-FE (3.5L V6) engines manufactured up through April 2008. So this affects all 2007 model year Sienna vans, and some 2008 as well. It is such a serious issue that the Toyota Limited Service Campaign for it is still in effect until 12/31/2021.
The issue is that the line will rupture and can cause the engine oil to drain out in 30 seconds.
To check and see if the LSC was applied on your vehicle, look behind the oil fill cap for a metal line going into a rubber hose; the arrow is pointing to it in this picture:
Here is a closer picture:
If the service has been done, the hose will have a yellow line on it, like so: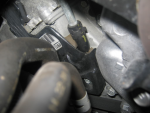 Note: The hose on my friend's van did not have a yellow line, but he did more research and found that his was in fact the updated part because of the markings on the hose. He said: "It doesn't have the yellow stripe it was supposed to, but it does appear to be the correct part, FKM, based on
https://www.clublexus.com/forums/es-5th-gen-2007-2012/470667-oil-pressure-hose-failed-6.html#post5187364
"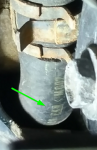 After April 2008, they redesigned it to be a fully metal line, so this issue is not there anymore.
Many people online recommend replacing the line with the new metal part. The reason Toyota didn't do this is probably because it is quicker to replace just the rubber hose. The rubber hose with the yellow line has a different rating, so it should be okay if you have that. From what I read, there are no reports of the yellow line hoses rupturing. There are reports of lines rupturing even after the service was done, but it appears in those cases the dealer was lazy and used the original hose part instead of the new hose with the yellow line.
So long and short, I would recommend checking that line and ensuring you have a yellow line. If not, I would recommend replacing that either with the yellow hose or replacing the whole line with the metal line.
This is a webpage with tons of info on the problem:
https://sites.google.com/site/toyotav6oillinescandal/
And this is the Toyota LSC:
http://media.fixed-ops.com/toy_campaigns/90k_dlrltr.pdf
This is what the whole part looks like:
DIY for replacing the line, although on a Highlander:
https://www.toyotanation.com/threads/diy-replacing-rear-bank-vvt-i-oil-line.432008/