Discussion Starter
•
#1
•
Hello. I installed a transmission cooler on my 2016 Sienna this weekend and thought I'd do a quick write up. After some research I settled upon the Derale 13300, which is a 16 pass tube cooler with -6AN fittings. I prefer a tube and fin cooler over a plate type cooler for transmissions for their full fluid flow characteristics. I also picked up an inline magnetic transmission filter. The IFJF transmission filter is one half the cost and is identical to the Magnefine filter in my opinion. On the box it even suspiciously says "Magnefine" but hey a genuine Magnefine filter would work fine too of course.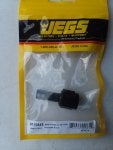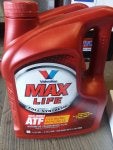 In addition to these parts, I used some 2x2 1/16" thick aluminum angle iron, pop rivets, an M6 rivnut, o-rings, four additional spring clamps, zip ties, and some other things I'm probably forgetting.
To start, I removed the grille and the lower plastic panel that covers up the radiator from the bottom. I then figured out where I wanted to mount the cooler. Since there is ample room I decided the easy thing to do was to use the vertical hood latch support to attach the cooler. Removing the support was straightforward. There are four bolts, the hood release cable and a few electrical tabs to remove.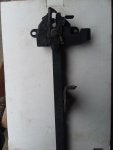 Now I had to make a mount for the cooler itself. Here I settled on using 2" angle aluminum, 1/16" thick . I cut the angle aluminium to the correct length and then drilled out the holes to match the cooler inlet and outlet ports. I also drilled three holes which I used to install some 3/16" rivets, attaching the angle aluminum to the hood latch support. Note the slight notch at the top of the angle aluminum, which I made simply to move up the cooler to its highest point on the vertical hood support.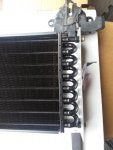 Okay, now I have to post this initial page and continue, since only 10 images can be attached. Hang tight, I'll be right back...