Discussion Starter
•
#1
•
Disclaimer: First time posting a DIY. This was done on a 2011 Sienna XLE AWD.
Tools/supplies Needed:
10mm socket
6mm hex socket
24mm socket
Funnel with tubing or fluid transfer pump
Jack and jack stand
Scan tool capable of displaying ATF temperature - I have a ScanGuage II which I had to program (easy to do with instructions on their website) to read the ATF temp.
Toyota part # 90430-12008 (drain plug crush washer) (likely special order, I got mine the next day - I think I bought 3 for about $5)
Toyota part #
90430-18008 or
90430-A0003
(fill plug crush washer)
3ish quarts of transmission fluid spec'd for Toyota Type WS. I know there are going to be a lot of people that say to use nothing but that, but I'm using Red Line ATF D6. Up to you.
optional: graduated bucket
Step 1:
Drive car to heat up the fluid - my fluid was in the upper 160s when I did the drain. This is optional, but I wanted to get the most fluid possible to drain.
Step 2:
Jack up the car and remove the driver's side front tire.
Step 3:
Use your 10mm socket to remove the panel towards the front back of the wheel well. I did not remove the clip, only the 2 10mm bolts, then the panel swung away.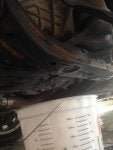 Step 4:
Use the 24mm socket to remove the transmission fill plug. Note that there is a crush gasket on this plug that *should* be replaced, unfortunately, I did not have this gasket as I didn't foresee this. As I plan to do additional drain and fills in the near future, I will replace it next time. In the above picture, the plug is already removed.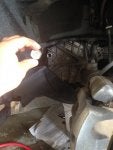 Step 5:
With the optional graduated bucket underneath the plug (and for me, with the engine not running, because again, I wanted to drain the maximum amount of fluid), remove the transmission level check/drain plug using a 6mm hex tool.
Step 6:
Once the fluid is done draining, use the same 6mm hex tool to remove the red level check tube while keeping your bucket in place. If you look up into the pan through the plug you removed in step 5, it will be very obvious what to do. Once you remove the tube, slowly lower the van to about level as this will drain additional fluid. (Winner's tip: don't crush your bucket or whatever you're using to catch the fluid as your humble author did. Be sure to use a low-profile fluid catching system of some sort (the one pictured, while very nice for such projects because it's translucent and the graduated marks are on the outside, was too tall for the job. Thankfully, it sprang back nicely.)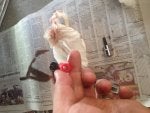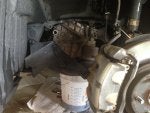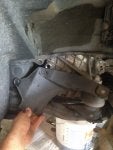 Step 7:
OK, this step will be controversial - do at your own risk: With the plug and tube removed, I then started the van and quickly shifted through the gears - P-R-N-D and back twice and promptly shut off the van. In all honesty, this probably only netted at most another pint drained.
Step 8:
Replace level check tube (note that it seems like your going to crank it in forever, and you start to get nervous that there isn't a stop at the end of the hole, but trust me, it eventually stops. Also, loosely (hand tighten) replace the drain plug with fresh crush washer.
Step 9:
This is where YMMV: Through all the draining, I got about 2.5 quarts (maybe a tad less) in my graduated bucket. Adjust this step accordingly depending on how much you got. Using your funnel with tube or transfer pump, replace approximately what you removed from the van. This whole process will result in a small amount of wasted fluid, but whatever.
Step 10:
Make sure that your van is level (likely will involve lowering the van slightly using the jack). Using your scan tool, determine if the ATF is in the proper level check range of 108-113F, if it is,
with the van running
, shift through the gears, allowing each gear to fully engage P-R-N-D (I did this twice), then remove the drain plug (with something to catch the fluid in place). A little bit of fluid will likely drain out.
Step 11:
With the van still running and your drain bucket still in place, slowly add more fluid to the fill hole until transmission fluid drains out of the pan.
Step 12:
When the fluid coming out is at a very slow trickle, replace the drain plug and shut off the van.
Step 13:
Replace the Fill plug. I couldn't find the torque specs for either plug. I did the drain at 29 lb-ft and didn't even use a torque wrench on the fill as I didn't have a replacement washer - I just got it good and snug. If anyone wants to chime in with the actual specs, it'd be appreciated. [EDIT: Thanks to TomB985 - 30 lb-ft for drain and 36 lb-ft for fill plug are the factory specs]
Step 14:
Replace the panel that covers the transmission, replace the wheel (76 lb-ft). and drive off.
That's it. I was hoping for more fluid draining out, but that's ok. Mine is an AWD, so the total capacity is 7.1 quarts. I plan to do this procedure 2-3 more times in relatively quick succession, then just do a 1 time drain and fill at each oil change, which I do at 10k. I know many of you believe this is overkill. Essentially, I don't believe in lifetime fluids, so I'm playing it safe, and maybe wasting some money along the way. The van currently has 38k miles on it and I don't tow, so I'm firmly in the camp of "over-maintaining" the van.
Here are a couple of pics of the old fluid - seemed in decent shape, but definitely darker than the stuff I put in (also in pic, my reward for a job well done):